Managing Trustee's Message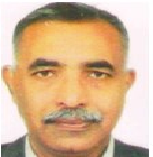 Dr. S. Shivram
Managing Trustee
SICA Educational Trust
SICA Educational Trust had always imparted quality education for overall development of students right from nursery. SICA Schools of Indore has made a dent and established unparalleled reputation in last 50 years. To contribute to the nation through developing youth of India, the Trust established SICA College with the aim of grooming highly qualified, sharp, socially responsible and ethically enlightened individuals who are prepared to take challenges of future. The College aims to fill the gap that exists as on date in the demand versus availability of teaching fraternity especially in the streams of Science and Commerce.
Education to be holistic should focus on academic excellence, co- curricular and extra-curricular activities and last but not the least be employability oriented. SICA College therefore provides an excellent infrastructure, sports facilities, technologically upgraded Wi-Fi campus and most importantly an excellent team of highly qualified and competent faculty for imparting quality education.
I firmly believe that "Education is the best gift one can gift to others and to oneself" and so let SICA College redefine the educational scenario and nurture future educators and entrepreneurs of tomorrow.
Keep winning laurels and All The Best for your endeavors!