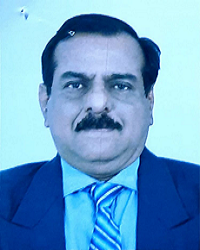 Mr. P. Babuji
Advisor to SICA College
SICA Educational Trust
SICA educational Trust, Indore has been devoted to excellence in Teaching, Learning and Moulding students into wonderful citizens who can make a positive difference in the world. The strength of our institution are the people – Professors, Students and Parents alike.
SICA College was inducted a few years back after vast experience gathered from SICA Schools across Indore. Apart from Good Course Design, Management has ensured good infrastructure with spacious and ventilated Building so as to enhance the learning atmosphere.
Being an Advisor to SICA College and be part of building this institution is an honour. I am confident that we shall work together to bring about some positive initiatives in the months to come.
Apart from the Academics, SICA strives to provide values and inculcating integrity in our future citizens who will make an impact.
I will be all ears to any ideas and impactful suggestions should Parents, Professors and most importantly Students wish to share. Please Reach out on College Email or Social Media Channels.
आरोग्य… अध्ययन… ऐश्वर्य…